Pissarro dans les ports
from April 27 to September 29, 2013
In 1903, Pissarro had been intending to go back to Dieppe for another summer, but Peter Van der Velde, a collector from Le Havre, persuaded him to come to Le Havre instead.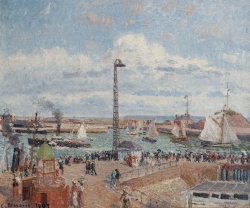 Camille PISSARRO (1831-1903), Pilots' Jetty , 1903, oil on canvas, 54.5 x 65.3 cm. © MuMa Le Havre / David Fogel
He moved into the Hôtel Continental, overlooking the outer harbour, "the most convenient and perhaps the most remarkable place in which to paint a few pictures in Le Havre," from which he said he could see pass beneath his window "the great transatlantic steamers and other vessels from morning till night. With the docks and the traffic, it is splendid! I think I will have an interesting new series." From the three windows of his room, he had a panoramic view of the harbour landscape: the jetty and the semaphore mast to the west and the open sea, with the Anse des Pilotes straight ahead of him, and the end of the outer harbour to the east.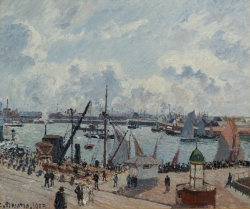 Camille PISSARRO (1831-1903), The Outer Harbour of Le Havre, Morning, Sun, Rising Tide , 1903, oil on canvas, 54.5 x 65 cm. © MuMa Le Havre / David Fogel
On arriving in Le Havre,
Pissarro
wrote to his son: "You know that for me, subjects are entirely secondary: atmosphere and effects are what count." With a port that is so wide open to the sea, he must surely have found effects aplenty. Even so, subjects are never insignificant, and in Le Havre, as in Dieppe and Rouen, the teeming activity of the harbour, with its moving individual figures and groups, continued to be of great interest to
Pissarro
.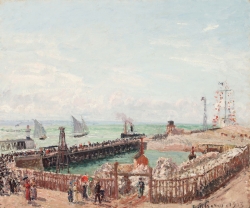 Camille PISSARRO (1831-1903), Entrance to the Port of Le Havre and the Western Breakwater, Sun, Morning, oil on canvas, 57.2 x 64.8 cm. © Memphis, Dixon Gallery & Gardens
Moreover, when he came to stay in Le Havre, work had just commenced on a major project to enlarge the harbour entrance − the first of the palisades planted to mark out and protect the area under construction can be seen in the Memphis painting
Entrée du port du Havre et le brise-lames ouest, soleil matin
(
Entrance to Le Havre Harbour with West Breakwater in Morning Sunlight
) − and the artist was conscious that he was painting a port that was going through huge changes:
"I am expecting an art-lover who wants to see my harbour pictures. Apparently it is very important from a historical and documentary viewpoint! The harbour is being demolished to build an even bigger one. Apparently, once it has been demolished, it will be unique!"
Pissarro
produced 24 oil-paintings in Le Havre. His series finished, he returned to Paris on 26 September. He fell ill shortly afterwards, and passed away on 13 November 1903, aged 73. So the Le Havre series is the last of all
Pissarro
's series.
A week before he left Le Havre he expressed satisfaction: "I am glad I came here. Not only is it magnificent, but I have made several acquaintances here who like my painting and will buy it at some point." At long last, at this late stage in his life, the longed-for commercial success was in sight!