Pissarro dans les ports
from April 27 to September 29, 2013
After a decade in Pontoise, which was then still a fairly countrified little town in the Paris area, Camille Pissarro was looking for a new repertoire of subjects. In 1883, on the advice of his friend Claude Monet, whose brother lived there, he went to Rouen.
Pissarro
spent his first stay in Rouen exploring the city and strolling along the banks of the Seine, on the lookout for subjects. He painted eighteen assorted works, in which no particular theme stands out (as especially frequent).
Twelve years later, in 1895, he went back to Rouen and painted several watercolours. On his return to Paris, he saw
Monet
's
Cathedrals
series, painted in Rouen in 1892 and 1893, for the first time, in the Galerie/ Durand-Ruel gallery. Struck by the unity of the work, of a kind he himself had long been striving for for a long time, and realising that the series "had to be seen as a whole," he decided to spend/ another stay in Rouen with the aim of himself producing a coherent set of paintings.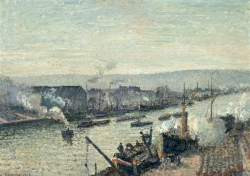 Camille PISSARRO (1831-1903), The Seine at Rouen, Saint-Sever, 1896, oil on canvas. Paris, musée d'Orsay. © RMN-Grand Palais / Hervé Lewandowski
Forced by eye trouble/ meant that he could only paint indoors, so he set up his studio in a hotel bedroom on the right bank of the Seine. Encouraged by his paintings' favourable reception, he returned to Rouen for a third stay in November 1896, and a fourth in summer 1898. He stayed in a different hotel on each occasion, all of them on the Right Bank.
Camille PISSARRO (1831-1903), The Pont Boieldieu in Rouen, Rainy Weather, 1896, oil on canvas, 73.6 x 91.4 cm. Toronto, musée des beaux-arts de l'Ontario. © Paris, archives Durand-Ruel / Routhier
Pissarro
ignored the city's medieval quarter: what interested him was the sight/ of the frenetic activity of the rapidly-changing river port. He wanted to show the dynamic aspects/ of the modern city, both his paintings and his prints emphasize the harbour as a place of work/ing aspect/. The Boieldieu and Corneille bridges, the docks and the brand new Gare d'Orléans on the Left Bank became his favourite subjects.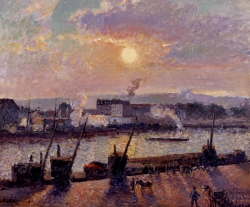 Camille PISSARRO (1831-1903), Quai de la Bourse, Rouen, Sunset, 1898, oil on canvas. © Collection Linda Gale Sampson
But above all, he strove to convey the atmosphere of the places and the infinite variations of light, via effects of mist and fog, sunset, rain and so on. Constantly changing weather/ changes meant working/ on several paintings at the same time. "I've got fog, mist, rain, sunset and grey effects," he wrote, adding anxiously,
"
I need a few good sessions for two sunsets, two fogs, a sunlight and a grey morning. Will I get them by the end of March?"
In all,
Pissarro
produced 69 paintings and an extensive series of prints/engravings in Rouen.