Eugène Boudin, l'atelier de la lumière
from April 16 to September 26, 2016
"I have such a thirst for light..." Eugène Boudin, 1888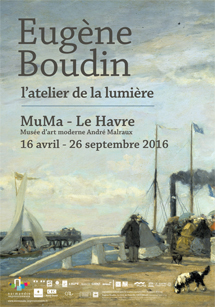 Exhibition organized by the City of Le Havre in conjunction with MuMa – André Malraux Museum of Modern Art, Le Havre and the Réunion des Musées Nationaux – Grand Palais, Paris as part of the Normandy Impressionist Festival, with special support from the Musée d'Orsay.
Following exhibitions on
Dufy
,
Friesz
,
Signac
,
Pissarro
and
Staël
, MuMa continues its exploration of great nineteenth- and twentieth-century artists connected with the history of its collections and inspired by Le Havre and the coast of Normandy with a major retrospective of the works of
Eugène Boudin
(1824-1898), the painter most closely associated with the Seine estuary.
MuMa has the second largest collection of Boudins in the world
. Most of the 325 works (comprising oil paintings, watercolours, drawings and engravings) were among the contents of the painter's studio donated by his brother in 1900, but the collection has continued to grow as a result of purchases, additional donations and bequests in the twentieth and early twenty-first centuries.
New research supported by insights into
Boudin
's personality from his abundant correspondence has prompted MuMa to mount what will be the first retrospective of
Boudin
's work to be held in Le Havre since 1906.
Although
Boudin
was born not in Le Havre but in Honfleur, he had strong connections with Le Havre. It was the place where he grew up and started work (as a stationer), and he received assistance from the city authorities in the form of a scholarship and the purchase of the first of his works to be exhibited in the Salon. Le Havre art enthusiasts were among the first to buy his works. Above all, more than any other painter (with the exception of
Dufy
somewhat later), he found endless inspiration in Le Havre's harbour landscape, painting the docks and basins and the to-ing and fro-ing of vessels throughout his life and capturing the endlessly changing atmosphere of the Seine estuary.
The exhibition
"Eugène Boudin. L'atelier de la lumière"
("Eugène Boudin. Craftsman in Light") is designed to shed new light on the work of this pioneering Impressionist figure by juxtaposing more than a hundred works from French and foreign major public collections and private collections with works from MuMa's collection. It will focus on hitherto unexplored themes such as the status of sketches in
Boudin
's work, light and shade, and works painted for the Salon, and will give pride of place to important series such as
Boudin
's beach scenes and his sky studies, the "prodigious magic of air and water" first remarked on by
Baudelaire
in 1859. This section will comprise 27 pieces (16 oil paintings and 11 watercolours), including a number of outstanding, rarely lent works. It will highlight the way in which
Boudin
investigates the possibilities of a brand-new subject - modern life - at the same time as pursuing his explorations of light.
Displayed opposite the changing maritime landscape whose endless variations
Boudin
so delighted in capturing throughout his life, the exhibition will take over the entire museum. The permanent collections area will display the rest of the
Boudin
collection and the works he saw when the museum was opened in 1845 (some of which he copied), works by his friends (
Courbet
,
Jongkind
,
Monet
, etc.), and works collected by his admirers in Le Havre - art-lovers such as Charles-Auguste Marande and Olivier Senn.
The exhibition will consist of
200 works
(144 oil paintings and 55 works on paper), 116 of them on loan from private or public collections. These will include 12 works by contemporaries of
Boudin
, including two by
Monet
. Numerous private lenders and major American, British, Canadian, Cypriot, Czech, Danish and French public collections will be contributing to this retrospective by lending works, a third of which have never previously been on display to the public in France.
Exhibition Curators:
Annette Haudiquet, Curator and Director of MuMa – André Malraux Museum of Modern Art
Virginie Delcourt, Associate Curator, MuMa – André Malraux Museum of Modern Art
Laurent Manœuvre, art historian, senior researcher in the Museums Department of the Ministry of Culture and Communication
Anne-Marie Bergeret, Senior Curator and Director of the Musée Eugène Boudin, Honfleur