Le Havre, nouvelles images
from October 25, 2003 to February 02, 2004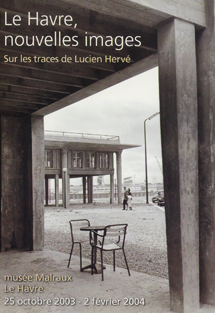 In the wake of the 2002 exhibition "Auguste Perret, la poétique du béton", the Musée Malraux investigates the images that were taken of post-war reconstruction and thereby formed a new iconography of the city. In July 1956,
Lucien Hervé
was invited to photograph Le Havre: he took nearly 500 shots of the city. The exhibition "Le Havre, nouvelles images" takes an unprecedented look at a significant number of these original works.
Other works of photography and video are displayed around them, creating an on-going conversation between contemporary artists and
Lucien
Hervé
. Images of the city, images of the port, commissioned images and personal works are all expressions of an artist's candid look at Le Havre as a modern and open city.
Lucien
Hervé
invented modern Le Havre. Other artists—photographers for the most part—soon followed in his footsteps. Perret may have built the new city of Le Havre, but Hervé and the young photographers created a new corpus and devised a new iconography of the city.