De Courbet à Matisse
from March 13 to June 12, 2005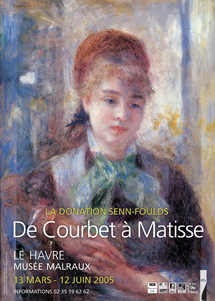 On December 2, 2004, Hélène Senn-Foulds donated her grandfather Olivier Senn's extraordinary collection of art to the City of Le Havre. A unique collection of 71 paintings, 120 prints and drawings, and 5 sculptures, the donation was displayed in public for the first time during the exhibition "De Courbet à Matisse, la Donation Senn-Foulds" held at the Musée Malraux from March 13 to June 12, 2005.
Le Havre-born Olivier Senn was a cotton merchant who developed a passion for art at a young age and quickly became involved in the cultural life of the city. He joined the Société des Amis des Arts in 1896 and was a founding member of the Cercle de l'Art Moderne in 1906, alongside other important collectors like Charles-Auguste Marande (who donated his collection to the museum in 1936) and artists such as
Dufy
,
Braque
and
Friesz
. A knowledgeable collector, Olivier Senn had a keen eye for the most innovative currents on the art scene.
He began building his collection around 1890–1900 and continued purchasing artworks until the late 1930s. A "Renoir fanatic", as one of his friends liked to call him, he soon demonstrated a preference for Impressionist painters and landscape art. He gradually added to his collection, seizing opportunities as they arose (public auctions, encounters), strengthening the number of Impressionist works (
Pissarro
,
Renoir
,
Sisley
,
Monet
,
Guillaumin
) and carefully choosing major Pre-Impressionist works (
Delacroix
,
Courbet
,
Corot
) to complement them. He also opened the collection to the Neo-Impressionists (
Cross
), the Nabis (
Sérusier
,
Vallotton
,
Bonnard
,
Vuillard
) and the Fauves (
Marquet
,
Matisse
). He also had a strong sensibility for the art of drawing, acquiring an extraordinary set of over 40 early drawings by
Edgar
Degas
, as well as watercolours and pastels by
Boudin
,
Guillaumin
and
Cross
, and ink drawings by
Marquet
.