Nicolas de Staël. Lumières du Nord. Lumières du Sud
from June 07 to November 09, 2014
Exhibition of national interest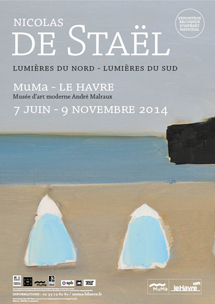 To mark the centenary of de
Staël
's birth (he was born in Saint Petersburg in 1914 and died in Antibes in 1955), MuMa is holding the first exhibition focusing on landscape in the work of this major figure in mid-twentieth-century art. Light-filled and overlooking the sea, as well as being one of the temples of modern landscape painting Le Havre's modern art museum was designed during the very years when de
Staël
began to reintroduce figurative elements into his paintings, working in the Ile-de-France, the South of France and Normandy. In 1952, he painted some 40 pictures inspired by the landscapes of the Norman coastline.
In what was to be a meteoric artistic career, between 1942 and 1955
Nicolas de
Staël
produced a body of work widely acknowledged to be one of the freest of the post-war period. After an abstract phase, just as abstract art was prevailing, he moved on to a style of painting that reconnected with reality, nature and landcape, transcending the apparent opposition between abstract and figurative art.
"For me, abstract painting and figurative painting are not opposites. A painting should be both abstract and figurative. Abstract insofar as it is a wall, figurative insofar as it represents a space."
Nicolas de
Staël
, 1952.
During 1951, the woodcuts de
Staël
made for a book entitled
Poèmes
- produced with René Char - helped him form a new conception of the pictorial space. At the end of the year, his painting opened up completely to the contrasting lights of the Ile-de-France, Normandy, the Midi and Sicily. For the period between the beginning of 1952 and March 1955, landscapes - mainly seascapes - represent slightly over half of his output.
For de
Staël
, landscape did not mean the picturesque or accurate depiction of a location, but primarily light, space and the elements. He painted studies from nature and produced ink and felt-tip drawings on his travels, then reworked the subjects in the studio, constantly inventing new forms and moving from using thick layers of paint to using paint so diluted as to be almost transparent.
By choice or by circumstance, his gaze alighted on Gentilly, Mantes-la-Jolie, Honfleur, Villerville, Dieppe, Calais, Dunkerque and Gravelines in the north and Le Lavandou, Lagnes, Ménerbes, Marseille, Uzès, Antibes and Sicily in the south. As early as 1949, de
Staël
the nomadic light-seeker wrote:
"
The pictorial space is a wall, but all the birds in the world fly freely about in it at all depths."
This exhibition will comprise
over 130 works
(80 paintings and 50 drawings) produced between 1951 and 1955.
A quarter of them have either never been exhibited at all or never been exhibited in Europe
.
For this major event, works will be loaned by numerous private individuals and some of the biggest French, German and American public collections - the National Museum of Modern Art and the Bibliothèque Nationale de France in Paris, Dijon Museum of Fine Arts, the Musée Picasso in Antibes, the Musée Granet in Aix-en-Provence, and museums in Düsseldorf, Karlsruhe, Los Angeles, Milwaukee, Buffalo, Cincinnati and Charlotte.
Exhibition Commissioners
Annette Haudiquet, Curator
Virginie Delcourt, Associate Curator
with the support of the Nicolas de Staël Committee
France is celebrating the centenary of Nicolas de Staël's birth with a twofold commemoration consisting of this exhibition and the exhibition of de Staël's Nudes 1951–1955 at the Musée Picasso in Antibes from 17 May to 7 September 2014.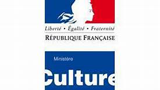 This exhibition is recognized as being of national interest by the French Ministry of Culture and Communication.