Philippe De Gobert. From the marvellous in architecture to the photographic tale
from May 29 to November 07, 2021
Since central Le Havre became a UNESCO World Heritage site in 2005, MuMa has invited around 30 photographic and video artists, some French and some foreign, to spark reflections and help change the way we view the reconstructed city of Le Havre.

In the same vein, this year, the museum has invited Philippe De Gobert (1946, Brussels) - an artist who is fascinated with modern architecture - to put together a major monographic exhibition that immerses us in his distinctive poetic world. The exhibition itinerary combines De Gobert's own photographs and scale models with archive documents that shed light on his references and inspirations. De Gobert sketches another face of Le Havre - a kind of disturbing double of the iconic city that has come to epitomize the Reconstruction - and invents an alternative narrative of its rebirth.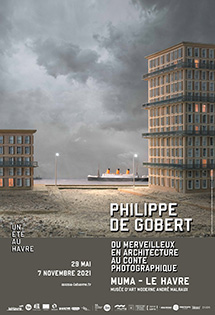 Philippe De Gobert
discovered Le Havre in the spring of 2018. He started off by spending a long time walking around the city and simultaneously amassing documentary evidence about the work of reconstruction carried out by the team of architects led by
Auguste Perret
.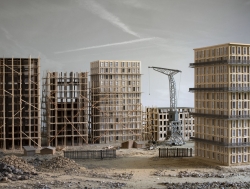 Philippe DE GOBERT (1946), LH 1636, 2019, , 104 x 138 cm. Private collection. © Philippe De Gobert © Adagp, Paris 2021
Back in his studio in Brussels, according to his usual modus operandi, he set about making scale models of buildings based on those to be seen in Le Havre.
De Gobert
says he makes scale models of buildings «to understand how they work». Yet in the Le Havre series, the model is not an end in itself, but a stage in the process of creating the artwork, which is the photograph. The artist photographs his models, sometimes from inside, then, in a reversal of the process of miniaturization of the world, he prints the photographs in large formats to recreate the models on a scale appropriate to the landscape, incorporating fragments borrowed from reality - some genuine, some fake.
This corpus, composed essentially of views of interiors or seafront landscapes, conjures up an imaginary version of Le Havre, captured in the silence and purity of its birth, and empty - although here and there unobtrusive signs of a human presence can be made out.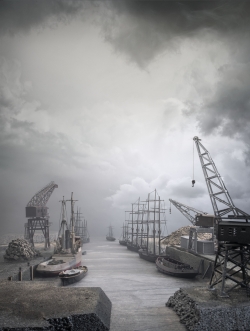 Philippe DE GOBERT (1946), LH 2281, 2020, , 104 x 138 cm. . © Philippe De Gobert © Adagp, Paris 2021
De Gobert
's project gradually expanded. As a coda to the first series of photographs of a reconstructed city, he added an introductory narrative. Imagining the main phases of the reconstruction of Le Havre without feeling bound by the constraints of truth, introducing anachronistic details whenever he felt like it, he reinvented a possible history in the form of a «photographic tale». No longer in black and white, these new photographs, bathed as they are in twilight, are tinged with colour. As if resurfacing from an already distant past, these images dig deep into our memories and conjure up others - memories of a city razed to the ground, from which construction workers' huts, makeshift streetlights, then lifting apparatus and the first buildings emerged, little by little. We cannot do without this reminder of history, D
e Gobert
seems to say. These images are necessary because they imply the vast challenge to be met, thereby emphasizing the epic aspect of the task of reconstruction. The exhibition's presentation of this new Le Havre series highlights its narrative aspect while retaining chronological verisimilitude.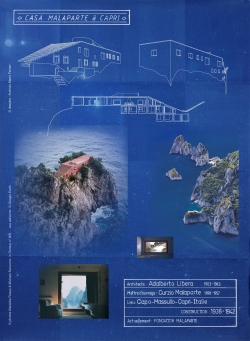 Philippe DE GOBERT (1946), Casa Malaparte, 2019, , 110 x 158 cm. © Philippe De Gobert © Adagp, Paris 2021
But
De Gobert
developed his concept still further. In a long introduction that seems like a digression, he reveals himself in what he calls «an implicit self-portrait through his enthusiasms». In a progression that combines scale models, plates of documents and photographs,
De Gobert
reveals his «highly personal slant on architecture, from the viewpoint of the marvellous and Utopia» offering «a choice of milestones in the history of [modern] architecture», sketching sections of his imaginary museum, where iconic modern buildings rub shoulders with wild (but brilliant) Heath Robinson fantasies unabandonedly and with a touch of humour. Here,
De Gobert
affirms his «playful, poetic approach to architecture, with its faux-pas and blunders, earnestly concocted by an artist, without the rigour of an academic or an art historian».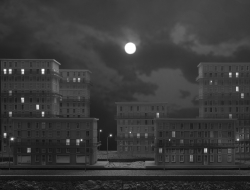 Philippe DE GOBERT (1946), LH 0726, 2020, , 79 x 104 cm. . © Philippe De Gobert © Adagp, Paris 2021
«The marvellous in architecture» becomes this long introduction, which, in embracing the totally subjective milestones in a history of architecture as told by
Philippe De Gobert
, identifies
Perret
's Le Havre belonging to this imaginary museum. But for the first time, the breadth and profusion of the subject has led the artist to develop what he has to say in the form of a narrative, the «photographic tale» as a possible history of the rebirth of Le Havre.
By opening up his imaginary world and placing Le Havre in this personal, poetic pantheon,
De Gobert
reenchants the way we see Le Havre.
Exhibition Commissioner
: Annette Haudiquet, Senior Heritage Curator and Director of MuMa
BIOGRAPHY
Philippe De Gobert
1946, Bruxelles
Lives and works in Brussels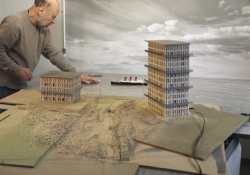 Jean-Marie Châtelier, Philippe De Gobert dans son atelier à Bruxelles, 2021 . © Jean-Marie Châtelier © Adagp, Paris 2021
«I was genetically programmed to be a painter. Very early on, I chose photography - the profession least removed from my preoccupations - as a means of survival. Kurt Schwitters' oeuvre prompted me to give up painting gouaches and start making assemblages of various materials and objects. While I was discovering the third dimension, I was a sculptor for a time, then I starting making scale models of my preferred world, «artists' rooms». Those scale models became the «models», in the pictorial sense, for my photographs and since then, I have made them specifically for that purpose. «
Philippe De Gobert is represented by the Galerie Aline Vidal in Paris.
MORE +
Publications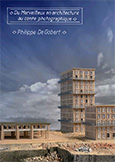 Philippe De Gobert.
From the marvellous in architecture to the photographic tale
Exhibition catalogue
MuMa André Malraux Museum of Modern Art Le Havre, Le Havre, 29 May-7 November 2021
Authors
: Annette Haudiquet, Septembre Tiberghien, Philippe De Gobert, Joseph Abram, Damien Sausset, Biographie par Julien Foucart.
Editing
: Published by Octopus / MuMa Le Havre, 168 pages, 70 illustrations, 21 x 29 cm, Hard cover, Price 24 €
ISBN
: 978-2-900314-26-5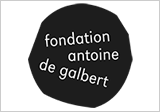 Bilingual publication of the catalogue has been made possible by funding from the
Fondation Antoine de Galbert
. (translation Charles Penwarden, John Tittensor, Laura Austrums).
⇢
fondationantoinedegalbert.org
Documents to download
LIEN EXTERNE