Degas inédit
from June 19 to September 19, 2010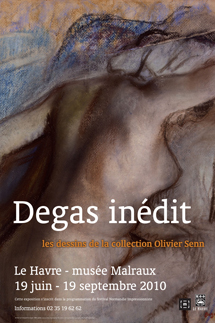 The second exhibition on Olivier Senn's collection of prints and drawings, "Degas inédit" focuses on the Le Havre collector's extremely rich set of drawings by the Impressionist master.
Senn was an enlightened art lover with a passion for the work of
Degas
. He bought his first pastel of a woman bathing in 1908, but it was after the artist's death and the works from his studio were sold at auctions (1918–1919) that he was able to constitute his fine collection of
Degas
. Senn showed a keen interest in what had, until then, been the least known element of
Degas
' production: his early works.
Degas
proved to be an extraordinary draftsman from the beginning. His copies of old masters, portraits and studies for historical subjects (
Semiramis Building Babylon
(1860–1862),
Alexander and Bucephalus
(1859–1861),
The Daughter of Jephthah
(1859–1861),
Spartan Girls Challenging Boys
(circa 1860),
Scene of War in the Middle Ages
(1865)) all point to a thorough mastery of his art. Keeping pace with the modern world,
Degas
later favoured the use of pastel and experimented with all of its visual resources. Senn acquired some of these later works.
The 47 drawings, pastels and watercolours donated by Hélène Senn-Foulds, most of which are being exhibited for the first time, are viewed alongside a set of 14 prints and drawings, and a painting, on special loan from the Musée d'Orsay. The works include one of the first pastels by
Degas
; a study for
Semiramis Building Babylon
acquired in 1918 by Olivier Senn and later donated by his son, Édouard, to the Musée d'Orsay. As the finishing touch to the exhibition, five drawings from private collections illustrate the artist's years of study.