Sur les quais
from October 18, 2008 to January 25, 2009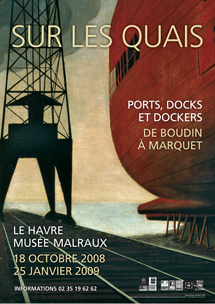 The 19th century was a period marked by major development projects, and the harbours were no exception. In the 1850s, work sites began popping up in almost all of the major French and European ports to adapt the shore-based infrastructures for the increasingly modernized fleets (sounding the death knell for sailing ships) to meet the needs of intensifying global trade. It was the dawn of the era of "perpetual construction".
An entire universe, still situated at the heart of the city, was changing and evolving. The port thus began to migrate away from the city and spread out along its periphery. It changed scale and expanded. For painters, it was no longer that metaphorical place of travel you could see in a single glance from breathtaking high viewpoints animated by picturesque touches. It had become a vibrant, bustling world, a trade hub filled with sights, sounds, smells and constant movement. Artists sensitive to modern life could not help but find there (as with train stations or areas around factories) the perfect reflection of their era dramatically altered by industrialization. They now cast their gaze on a new landscape marked by the metallic silhouettes of ferry bridges and steam cranes. Their compositions embraced the expanding stretches of quays with their mushrooming warehouses. Some, more attentive to people, provide a harsh commentary on the longshoremen and dockers toiling amongst the ropes, bridges, railway tracks and bundles of merchandise.
But the port was a place like no other, caught between two worlds, not quite urban, not fully marine, a fascinating place open to endless possibilities... Through 160 artworks (paintings, engravings, photographs, sculptures, films), including works by
Boudin
,
Monet
,
Pissarro
,
Signac
,
Marquet
and
Laszlo Moholy-Nagy
, the exhibition takes you on a journey back to the quays of yore...