Tales of a City: Photographing Le Havre
from November 25, 2017 to March 18, 2018
Picking up on the exhibition "French Landscapes" at the National Library of France, which retraced 30 years of photographic surveys of French landscapes, MuMa has decided to display items from its photography collection, some of which were publicly commissioned. From 25 November 2017 to 18 March 2018, the exhibition "Tales of a City: Photographing Le Havre" showcases a selection of photographs featuring Le Havre.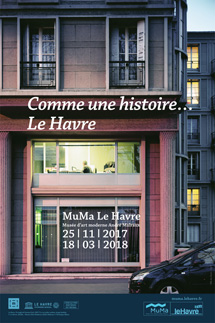 Instead of trying to inventory a collection built up over the last 15 years, Annette Haudiquet, the exhibition curator and Director of MuMa has chosen to pay a subtle homage to the city and port of Le Havre as a source of inspiration. This group of works seem to belong to the register of fiction rather than being objective topographical records or paeans to Le Havre's modern architecture.
The 17 photographers and artists featured in the exhibition have been quick to seize on the wealth of material offered by the city and its margins (the beach, seen as a neighbourhood in its own right, and the suburbs), interstices and halfway stages in space and time (such as the Place Danton under contruction), its private, inhabited spaces and its residents and temporary visitors. Collectively, their differing views of Le Havre invite us to dream up our own imaginary city and to hold onto what Louis Aragon, the author of Le Paysan de Paris, called "the sense of the marvellous in the everyday".
An exhibition/display in black and white and colour
Paintings and drawings by Yves Bélorgey
Photographs by Gabriele Basilico, Rut Blees Luxemburg, Charles Decorps, Véronique Ellena, Lucien Hervé, Matthias Koch, Manuela Marques, Sabine Meier, Corinne Mercadier, Olivier Mériel, Bernard Plossu, Anne-Lise Seusse and Xavier Zimmermann
Videos by Rebecca Digne, Christophe Guérin and Dana Levy