Vincent Barré. REposer - REgarder
from June 18 to September 04, 2011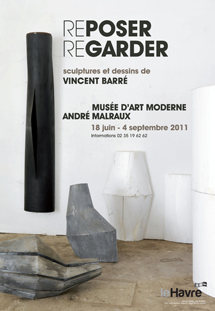 This exhibition began with an encounter. An encounter between sculptor
Vincent Barré
and two artworks from the museum's collections. The artist evokes the resonance between two still-lifes by the 17th-century painter from Strasbourg,
Sébastien
Stoskopff
: "Austere presence of everyday objects—pewter bowls, water jug and glasses, and modest food—shrimp, lemon, bread, cheese, onion... like a Vanity that reflects an art of frugal living and broad thinking. Constructive and spiritual proximity with my recent cast-iron and steel sculpture."
Vincent
Barré
Sculptures of cast-iron, aluminum, cut-out steel and rubber show the artist's interest in the possibilities afforded by materials and scales: on a monumental scale for the cast-iron, and at the level of the body and touch for the terracotta works. Older works of cut-out steel, inspired by "Vanities", recall the figurative origins of his inspiration. The "drawing gallery" presents nearly thirty years of sources: sketchbooks, travel logs, lecture and research notes, etc.