Gestes, Signes, Traces, Espaces
from February 17 to April 30, 2007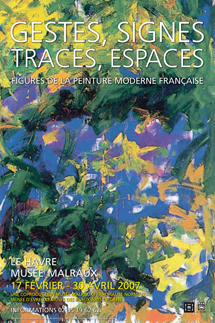 The public collections in Normandy boast a particularly high number of French post-war abstract masterpieces. This explains why first-rate artists like
Tal
Coat
and
Joan
Mitchell
have moved to our region.
An initiative of the FRAC Haute-Normandie, the Musée Malraux in Le Havre, the Musée d'Evreux, the Musées des Beaux-arts of Rouen and Caen, the Fonds Régionaux d'Art Contemporain of Haute and Basse-Normandie have, for the first time, pooled their collections to give the Normandy public an exceptional overview of modern painting in France through such emblematic figures as
Olivier
Debré
,
Jean
Degottex
,
Marc
Devade
,
Jean
Dubuffet
,
Simon
Hantaï
,
Hans
Hartung
,
Joan
Mitchell
,
Jean-Pierre
Pincemin
,
Judit
Reigl
,
Gérard
Schneider
,
Pierre
Soulages
and
Denis
Godefroy
.
Beyond all explicit figuration—even if some cannot forget their attachment to the landscape—the gesture, sign and line are pure creation. They convey a moment of energy suspended in the time or space of contemplation, stretched towards new horizons. The art is transcribed onto the surface of a canvas, framed within a painting.
And even if this is more a meeting of individuals than established movements, there is no denying the wealth and diversity of the abstract approaches that have spanned the gamut of French painting from the post-war period to the early 1980s.