Nicolas de Staël. Lumières du Nord. Lumières du Sud
from June 07 to November 09, 2014
"The pictorial space is a wall, but all the birds in the world fly freely about in it, at all depths." Nicolas de Staël, 1949
Painting from nature, "under the open sky"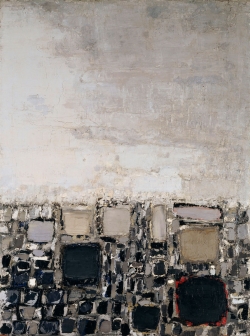 Nicolas de STAËL (1914-1955), The Rooftops, 1952, oil on hardboard, 200 x 150 cm. Paris, musée national d'art moderne (MNAM) — Centre Pompidou. © Centre Pompidou, MNAM-CCI, Dist. RMN-Grand Palais / Bertrand Prévost — © ADAGP, Paris, 2014
The Rooftops
, also referred to as "Sky" or "Dieppe Sky", begun in 1951 and finished in January 1952, was an essential milestone in
Staël
's shift to a new way of working. Above a stony beach or "rooftops" with the density and texture of the blocks of his earlier compositions, the horizon opens up to become a lofty, deep sky in shades of grey and blue. From March 1952 onwards, feeling the need to attune his vision to the real world,
Staël
painted numerous studies in oils from nature, initially in the Paris area, in Gentilly, the Chevreuse valley, Mantes-la-Jolie and Fontenay-Mauvoisin, where the collector Jean Bauret lived. A supportive friend, Bauret encouraged
Staël
to "follow the example of nature's pictorial forms". These works, which hover between abstraction and representation, reflect the artist's development, which was soon to take him to Normandy and the south of France in search of new lights.
Seas, skies and clouds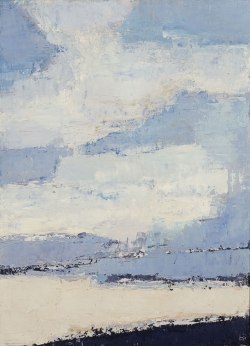 Nicolas de STAËL (1914-1955), Sea and Clouds, 1953, oil on canvas, 100 x 73 cm. Private collection. © J. Hyde — © ADAGP, Paris, 2014
Staël
's oeuvre includes around forty landscapes inspired by the Norman coast, from Honfleur and Villerville to Dieppe and Varengeville, where he often visited his friend and fellow painter
Georges Braque
. In these seascapes, generally in soft greys and blues, the structure of the horizon divides the sea from the sky. As in the works of the seventeenth-century Dutch painters
Staël
admired, the sky is the most important element. The shapes seem to dissolve into the thick paint, applied in horizontal bands suggesting the movement of the sea and the clouds and variations in the light.
Looking towards Le Havre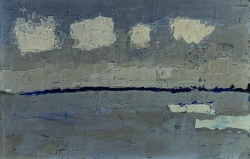 Nicolas de STAËL (1914-1955), Looking towards Le Havre, 1952, oil on board, 14 x 22 cm. Private collection. © J.L. Losi — © ADAGP, Paris, 2014
In the spring of 1952, during a short stay in Honfleur,
Nicolas de Staël
painted five small pictures entitled
Face au Havre
(Looking towards Le Havre). We have only been able to include one of them in this exhibition. Three proved impossible to track down and the fifth, which is in the Sprengel Museum in Hanover, is in too fragile a condition to be loaned.
The work on display was painted for
René Char
. It is a remarkable illustration both of how mutually enriching their friendship was and of the time
Staël
spent on the coast of Normandy, at a moment when he was starting to look at landscape in a new way.
A last summer in the north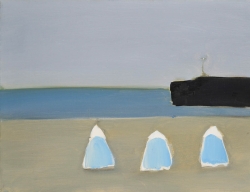 Nicolas de STAËL (1914-1955), Calais, 1954, oil on canvas, 46 x 61 cm. Private collection. © J.L. Losi — © ADAGP, Paris, 2014
In the summer of 1954,
Staël
stayed in Paris, where he painted several works including views of the Pont Saint-Michel and the Pont-Marie by night. From there, he travelled to the North Sea coast for a change of light and fresh inspiration. Working from felt-tip sketches, he produced a set of seascapes in muted tones, using paint so dilute as to be almost transparent, inspired by the jagged cliffs of Cap Blanc-Nez and Cap Gris-Nez, the beach at Calais, Petit-Fort-Philippe and the channel at Gravelines and the port of Dunkirk.