Nicolas de Staël. Lumières du Nord. Lumières du Sud
from June 07 to November 09, 2014
For Staël, landscape does not mean the picturesque or accurate depiction of a location, but a subjective, absolute connection with reality.
Cassé-bleu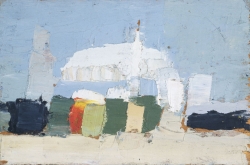 Nicolas de STAËL (1914-1955), Le Lavandou, 1952, oil on plyboard, 12 x 18 cm. Private collection. © J.L. Losi — © ADAGP, Paris, 2014
In May 1952, encouraged by
René Char
,
Staël
rediscovered the south of France, with its dazzling light. Like so many other painters from the nineteenth century onwards, from
Van Gogh
to the Fauvists, he was attracted by the Mediterranean. Both the small studies of beaches at Le Lavandou and the large studio paintings reflect the intensity with which
Staël
experienced the light
Char
called
"cassé-bleu"
, which transforms the perception of colours and dimensions. Powerful, diagrammatic shapes structure the composition, and contrasts between colours are taken to extremes.
The Provence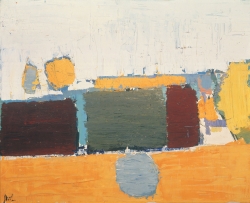 Nicolas de STAËL (1914-1955), Landscape in Vaucluse n°2, 1953, oil on canvas, 65 x 81 cm. © Buffalo, NY, Albright-Knox Art Gallery. Gift of the Seymour H.Knox Foundation, INC., 1969 — © ADAGP, Paris, 2014
From the summer of 1953, although he regularly felt the need to come and test his vision against the light of Paris and the north,
Staël
made the south of France his permanent base, initially settling in Lagnes in the Vaucluse.
Although he continued to use a lot of blue, his palette broadened to include ochres, and he gradually began to use more dilute paint. His works from this period reveal his interest in the harsh, jagged shapes of the area as much as in its light. In contrast with the seascapes, these compositions often include oblique lines - solid shapes of trees or rocks that structure the space.
Sicily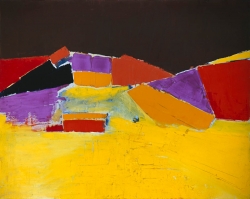 Nicolas de STAËL (1914-1955), Agrigento, 1954, oil on canvas, 73 x 92 cm. Private collection. © All rights reserved — © ADAGP, Paris, 2014
From 1950 onwards,
Staël
's works began to find favour with the American art market. In February 1953, he set off for New York, for a solo exhibition at the Knoedler Gallery. It was a resounding critical and commercial success and in June, Paul Rosenberg offered him a contract. The perspective of at last being free of money worries allowed him to plan more travels. In the summer, he set off from Lagnes on a long journey across the Italian peninsula to Sicily. It was to result in the most intense of all his landscapes. Their simplified shapes and flat blocks of pure colour echo Matisse's oeuvre and especially his gouache cut-outs.
Staël
produced numerous drawings on this trip, but it was in the months after he returned to France, in his new studio at Le Castelet (Ménerbes), a large building he purchased in the autumn, that he reworked the Sicilian subjects, unfurling his memory of the "Greek light" in colours of climactic intensity.
Antibes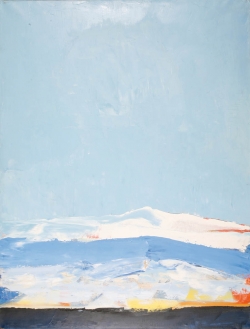 Nicolas de STAËL (1914-1955), Landscape, Antibes, 1955, oil on canvas, 116 x 89 cm. © MuMa Le Havre / Charles Maslard — © ADAGP, Paris, 2013
In September 1954,
Staël
moved to Antibes, alone, setting up his last studio on the ramparts, from which he had a view of the Fort Carré - a favourite subject during these last few months - the Mercantour massif, the Bay of Angels and the headland of Antibes. Working feverishly, sometimes driven by anxiety, he was striving even harder than before to push back the boundaries of pictorial expression, painting large compositions and constantly endeavouring to get away from his previous work. In the last six months of his life - a life devoted to painting - he produced seascapes in which tones of blue often predominate. Views of Antibes harbour and the Fort Carré, masts, boats and seagulls skimming the water feature in the final works of a painter whose career had been truly meteoric. In a comparatively short space of time,
Staël
produced one of the freest bodies of work of the second half of the twentieth century.