Permanent display
The museum presents a collection spanning over the 15th to 20th centuries. Modern painting comprises the majority of the collection, making MuMa one of the leading museums in France for the 1850-1920 period, and particularly Impressionist art.












ANCIENT SCHOOL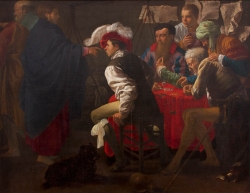 Hendrick ter BRUGGHEN (1588-1629), Calling of Saint Matthew, ca. 1620, oil on canvas, 153.5 x 195 cm. © MuMa Le Havre / Charles Maslard
The collection of ancient art dating from 16th, 17th and 18th centuries is grouped by theme: religious painting, portraiture, still life, landscape, etc. Most of the major national schools (Spanish, Dutch, Italian, French) are represented through the works of
Ribera
,
ter Brugghen
,
Vouet
,
Hubert Robert
, and other artists.
GREAT MASTERS OF THE 19TH CENTURY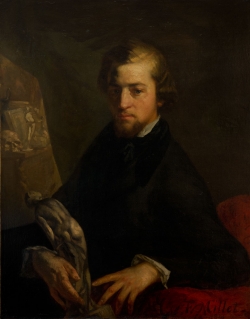 Jean-François MILLET (1814-1875), Portrait of Charles-André Langevin, 1845, oil on canvas, 92 x 73 cm. © MuMa Le Havre / David Fogel
Paintings by
Géricault
,
Delacroix
,
Troyon
,
Millet
,
Courbet
and
Corot
give an overview of the major artistic movements of the 19th century such as Romanticism, the Barbizon school and Naturalism.
Géricault
's
The Old Italian Woman
is displayed next to
Portrait of Charles-André Langevin
, painted in 1845 by
Jean-François Millet
.
Landscape at Champrosay
provides a rare example of the landscape genre by
Delacroix
.
The museum boasts a portrait by
Corot
, as well as an evening view of Dunkirk.
Gustave Courbet
's new approach to painting with "seascapes" finds full expression in
The Wave
.
BOUDIN AND THE PRE-IMPRESSIONISTS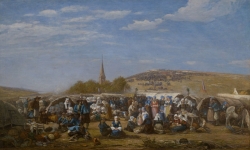 Eugène BOUDIN (1824-1898), Pardon of Ste-Anne-La-Palud, 1858, oil on canvas, 87 x 146.5 cm. © MuMa Le Havre / Florian Kleinefenn
MuMa possesses the largest collection of artworks by
Eugène Boudin
held at any public institution. Their display captures the essence of the work of this painter, who was
Claude Monet
's first master, succeeded by
Jongkind
.
The works on display include salon pieces such as
The Pardon of Ste-Anne-La-Palud
, still lifes, and series of sketches on cows, seaside resort society, washerwomen and the sky. Presented with
Eugène Boudin
are the great innovators of landscape painting such as
Constable
,
Jongkind
and
Lépine
, the predecessors of the Impressionists.
IMPRESSIONISTS AND NEO-IMPRESSIONISTS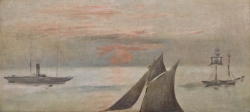 Édouard MANET (1832-1883), Boats at Sea, Sunset, ca. 1868, oil on canvas, 43 x 94 cm. . © MuMa Le Havre / David Fogel
Enriched by the Senn-Foulds donation, MuMa now boasts one of the most prestigious collections of Impressionist art.
Works by
Monet
,
Renoir
,
Pissarro
,
Sisley
,
Manet
,
Degas
and
Cross
feature prominently, ideally displayed in the very light that gave rise to the movement.
AVANT-GARDES AT THE TURN OF THE 20TH CENTURY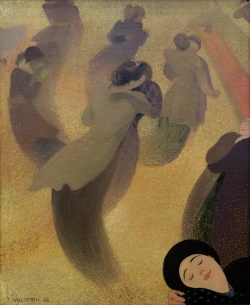 Félix VALLOTTON (1865-1925), The Waltz, 1893, oil on canvas, 61 x 50 cm. © MuMa Le Havre / David Fogel
In addition to Impressionism, the museum's collection offers a vast panorama of artistic creation in France at the turn of the century.
The works amassed by art connoisseurs from Le Havre, all members or friends of the Cercle de l'Art Moderne, provide a representative cross-section of the history of art in the final decades of the 19th century, at a time when the liberation of colour was reaching its height.
Various Nabi artists such as
Vallotton
,
Sérusier
,
Bonnard
and
Vuillard
share space with Fauves like
van Dongen
,
Marquet
,
Derain
and
Friesz
.
RAOUL DUFY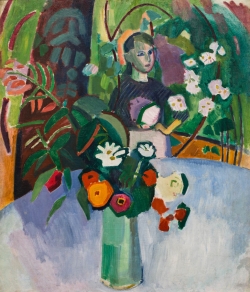 Raoul DUFY (1877-1953), Jeanne with Flowers, 1907, oil on canvas, 90.5 x 77.5 cm. . © MuMa Le Havre / David Fogel © ADAGP, Paris, 2013
Born in Le Havre in 1877,
Raoul Dufy
was a leading figure in the Fauve adventure, along with fellow artists
Georges Braque
and
Othon Friesz
.
Enriched with a major bequest from Madame Dufy in 1963, the MuMa collection provides a complete overview of the artist's work, from his early paintings in Normandy under the influence of Impressionism to his later, more mature output. As with all the Fauves,
Dufy
's approach evolved quickly into a personal style with his own vocabulary, often linked to the maritime influence of his childhood in Le Havre. Sailboats, mermaids, bathers and cargo ships all bring life to his works, where colour is given great volubility of expression.