Disabled visitors
Information group visits « Impression(s), soleil »
:
Our planning for the exhibition is now almost complete.
For any new reservation request, please contact us
Before planning your visit
By contacting us by e-mail as from 16 August 2017.
The museum welcomes all disabled visitors. All of the museum's galleries, public areas (library, studio, etc.) and elevators are wheelchair accessible.
Special tours and workshops
The public programming department offers a variety of group tours and workshops adapted to the specific needs of visitors.
The educational department develops projects more specifically designed for disabled children and teens. Itineraries, single sessions and workshop series over the year are adapted and prepared in cooperation with teachers.
Tours and workshops in sign language are also available on request.
The museum meets Tourisme & Handicap standards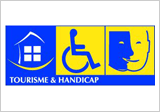 Physical disability
Mental disability
Contact the public programming department for more information on possible activities, content and pricing conditions.
Contact
E-mail:
service-des-publics-muma@lehavre.fr
Tel: 0033 (0)
2 35 19 62 62