Trine Søndergaard - Still
from October 13, 2018 to January 27, 2019
Danish artist and photographer Trine Søndergaard creates works of art that prioritize reflection and gives it a visual language. Her photos of traditional regional costumes and empty rooms convey a sense of shared human experience across generations. The exhibit will present under the title "Still" two series: Guldnakke (2012 - 2013) and Interior (2008 - 2013). A painting by Vilhelm Hammershoi, belonging to the Orsay Museum collections, and whose work inspired the photographer, should be set alongside the photographs.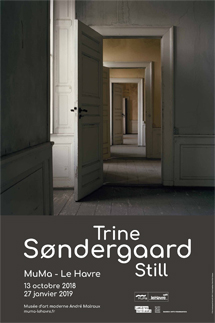 Interior (2008-2012)
Over an extended period of time, the photographer patiently created the images for the series Interior by continually revisiting the winter rooms of uninhabited Danish manors. When
Søndergaard
first arrived, the buildings had been empty for over half a century and stood like a shell of the past with their rooms devoid of any traces of life. These abandoned spaces provided an ideal site for her unique precision and sensibility, and for her continuing interrogation of the photographic image.
The images of Interior contain clear references to the nineteenth century Danish painter
Vilhelm Hammershøi
, whose paintings of rooms are known for their harmonic palette of grays and an acute awareness and rendering of light.
Guldnakke (2012-2013)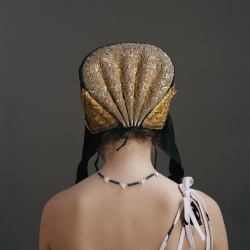 Trine SØNDERGAARD (1972), Guldnakke #8, 2012, , 150 x 150 cm. . © Trine Søndergaard © ADAGP, Paris, 2018
Gold is a universal symbol of wealth, the sublime, or the divine. Gold provokes a feeling of desire in many of us. The bonnets are from the mid-eighteen hundreds, and were popular among the wives of wealthy Danish farmers. The bonnets were a status symbo l. Gilded textiles had previously been reserved for royalty, the nobility and the church. Highly specialized needlewomen made the bonnets, and these experts are early examples of self-employed women who were often able to provide for their families. Linking this kind of female history to a specific garment is something the artist has explored in the past, just as she has also previously explored her audience's ability to read historical signs. T.S.
Exhibition realized in collaboration with
Martin Asbaek gallery, Copenhagen
, and with the assistance of
the Royal Danish Embassy
.
It will be presented in 2019 at the
House of Denmark in Paris
.
TRINE SØNDERGAARD
Trine Søndergaard
(b. 1972) is a Danish photography-based visual artist.
Søndergaard
lives and works in Copenhagen, Denmark.
Trine Søndergaard
's work is marked by a precision and a sensibility that co-exist with an investigation of the medium of photography, its boundaries and what constitutes an image. Layered with meaning and quiet emotion, her works are highly acclaimed for their visual intensification of our perception of reality. She has been awarded the Albert Renger-Patzsch Prize and has received numerous grants and fellowships, including a three-year working grant from the Danish Arts Foundation.
A NORDIC PROJECT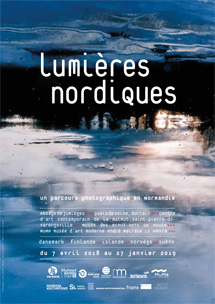 The concept behind the event is that it will act as an opportunity to become better acquainted with contemporary Nordic photography, by means of a number of exhibitions by
photographers whose work is inspired by their countries, some of whom will be asked to create bodies of work in Normandy.
The event as a whole is made up of a number of exhibitions spread over several prominent sites, in an area stretching along the River Seine from Le Havre to Rouen. Each of the sites involved will exhibit one or more photographers from each of the five Nordic countries: Denmark in
Le Havre
, Finland in
Jumièges
, Iceland in
Duclair
, Norway in
Saint-Pierre de Varengeville
and Sweden in
Rouen
.
The exhibitions are dedicated to creative contemporary photography and are built around the northern artists'own styles and themes, with the idea of enabling a revision of the Nordic identity through the particularities of their photography, which has certain differences, for example, that from Mediterranean countries and influences. An identity which rests on the treatment of certain subjects: in the first instance, the seascape and nature's powerful presence, but also interiors and portraits and the depiction of atmospheres linked by a certain light, colours and climate.
Certain works will have a natural resonance or dialogue with the areas surrounding the exhibitions, particularly in terms of the landscape. Several creative projects have been
also conceived specifically for the event, with the photographers working within the region, with a certain landscape or town, taking inspiration from a certain story and artistic heritage.
Lumières Nordiques
will showcase work from elsewhere but will also try to act as a platform for an encounter between different cultures and sensitivities.
Gabriel Bauret, Curator, Lumières Nordiques
MORE +
Publications

Trine Søndergaard
Still
Catalogue d'exposition Collection Lumières Nordiques #5
MuMa musée d'art moderne André Malraux, Le Havre, 13 octobre 2018 - 27 janvier 2019
Auteurs
: sous la direction d'Annette Haudiquet. Préface de Marius Hansteen, texte de Gabriel Bauret
Édition
: Octopus / MuMa Le Havre, 56 pages, format 20 x 25 cm