Nicolas de Staël. Lumières du Nord. Lumières du Sud
from June 07 to November 09, 2014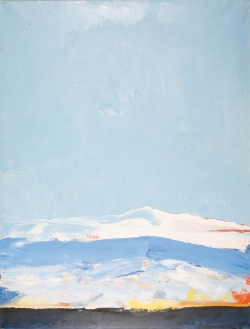 Nicolas de STAËL (1914-1955), Landscape, Antibes, 1955, oil on canvas, 116 x 89 cm. © MuMa Le Havre / Charles Maslard — © ADAGP, Paris, 2013
In 2009, one of
Nicolas de Staël
's last paintings,
Landscape, Antibes
, joined MuMa's collection, donated by Hélène Senn-Foulds as part of her father Edouard Senn's collection.
Three years before he painted it,
Staël
came to Normandy and painted five small views of Le Havre from Honfleur, in which the city is a thin line floating between a vast sky and an endless expanse of sea.
During those three years,
Nicolas de Staël
threw himself fervently into landscape painting. For the period between 1952 and 1955, landscapes represent slightly over half his output. MuMa is celebrating the centenary of
Staël
's birth in Saint Petersburg in 1914 with the first exhibition to focus on the place of landscape in his oeuvre.
Staël
had been exploring abstraction since 1942. But in the early 1950s, just as abstract art was beginning to collect plaudits from the critics, he shifted to a way of working that has sometimes been perceived as a return to the figurative, finding new inspiration in a more direct link with nature. The fact that his art evolved in this direction, just as abstraction was prevailing on both sides of the Atlantic, is a measure of
Staël
's profoundly independent artistic development, and shows how far removed he was from debates about abstract versus figurative art. From 1952 onwards, rather than abandoning abstraction to return to the figurative, Staël's painting evolves in a unique direction, completely reembracing three of the most traditional genres in the history of art: landscape, the nude and still life.
For
Staël
, landscape does not mean the picturesque or accurate depiction of a location, but a subjective, absolute connection with reality. Light, space and emotion take precedence over everything else. During 1951, the woodcuts
Staël
made for a book entitled
Poèmes
, produced with
René Char
, helped him form a new conception of the pictorial space. By the end of the year, his painting had opened up to encompass the differing lights of the Ile-de-France, Normandy, the Midi and Sicily. On his travels, he painted studies from nature and produced ink and felt-tip drawings, sometimes working them up into compositions in the studio, ceaselessly reinventing form and moving from using paint in thick layers to diluting it until it was almost transparent.
The exhibition "Nicolas de Staël. Lumières du Nord. Lumières du Sud". invites us to follow in the painter's footsteps, joining him on a nomadic quest for light that took him to Paris and the Ile-de-France, Honfleur, Villerville, Dieppe, Calais, Dunkirk and Gravelines in the north, and Le Lavandou, Lagnes, Ménerbes, Marseille, Uzès, Antibes and Sicily in the south, and entering into the vision of a man who wrote, as early as 1949: "The pictorial space is a wall, but all the birds in the world fly freely about in it, at all depths."