Lyonel Feininger, l'arpenteur du monde
from April 18 to August 31, 2015
The printmaking workshop, which ran from 1919 to 1925, was one of the first at the Bauhaus school of art, design and architecture in Weimar.
Artistic training at the Bauhaus had a strong focus on the acquisition of craft skills. During the Weimar period, the workshop was directed by two masters, an artist and a craftsman or technician (Meister der Form and Meister des Handwerks). At the end of their training, students were required to pass a journeyman's or master craftsman's examination.
While students could practise copperplate engraving, lithography and wood engraving, the main focus of the workshop was artistic printing. When the school transferred to Dessau, printing techniques were then combined with the art of typography in the new advertising workshop. During the Weimar period, the workshop was open to all—students and masters wishing to explore different processes or use the workshop to reproduce their artworks in series.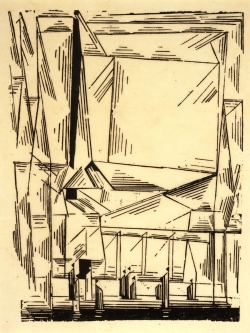 Lyonel FEININGER (1871-1956), Gelmeroda, 1920, woodcut, 33.3 x 23.5 cm. Private collection. © Maurice Aeschimann — © ADAGP, Paris, 2015
Lyonel Feininger
became form master of the workshop following the departure of Walther Klemm. Carl Saubitzer, himself a lithographer, was the master craftsman. Under
Feininger
's direction, the workshop created major portfolios, thereby enabling distribution of the artists' works at minimal cost and promotion of the school itself.
The first portfolio was published in 1921:
Zwölf Holzschnitte von Lyonel Feininger
(12 woodcuts by Lyonel Feininger). Designed by
Feininger
himself, the collection was mainly comprised of selected small-format woodcuts produced prior to the Bauhaus. Nine other collections were published between then and 1924, solo portfolios of prints by Wassily Kandinsky (
Kleine Welten/Small Worlds
), Oskar Schlemmer, Georg Muche and Gerhard Marks, as well as four collective portfolios (Bauhaus masters).
The workshop's most ambitious project was an anthology entitled
Neue Europäische Graphik
(New European Graphics). It was intended as a five-part series presenting the work of German artists, as well as French, Italian and Russian avant-gardes. The project remained unfinished. The printmaking workshop was discontinued when the Bauhaus transferred to Dessau.