Eugène Boudin, l'atelier de la lumière
from April 16 to September 26, 2016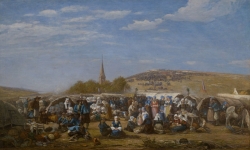 Eugène BOUDIN (1824-1898), Pardon of Ste-Anne-La-Palud, 1858, oil on canvas, 87 x 146.5 cm. © MuMa Le Havre / Florian Kleinefenn
From his first attempt in 1859 to the time of his death,
Boudin
regularly had works in the Paris Salon. He also exhibited in Salons in many provincial cities - Bordeaux, Rouen, Evreux, Nantes, Pau and of course Le Havre - sometimes sending in the same works as for the Paris Salon.
These pictures have often been neglected by historians, who have tended to focus on studies not produced with the Salons in mind. But
Boudin
's oeuvre cannot be fully understood without taking the Salon works into account. For
Boudin
himself, the two categories could not be dissociated.
He made no distinction between them either in terms of the subject or in his creative process. In fact, he reversed the conventional process of creation, which usually began with a small-scale study and ended with a large picture. He roughed out his pictures of all sizes directly from the subject and then finished them in the studio, and his large-format works deliberately look like sketches. How finished they looked depended solely on the customer's demands.
Sometimes
Boudin
produced several versions of a subject in similar or different sizes. Only the date on the work enables us to determine the exact order in which they were produced. Even so,
Boudin
sometimes went back to earlier works to add finishing touches without changing the date on the picture.