Eugène Boudin, l'atelier de la lumière
from April 16 to September 26, 2016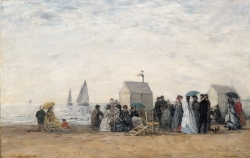 Eugène BOUDIN (1824-1898), The Beach at Trouville, 1867, oil on wood, 31 x 48 cm. . © RMN-Grand Palais / Hervé Lewandowski
In 1860, the Duke of Morny, Napoleon III's half-brother, launched Deauville as a seaside resort, which he wanted to be "the realm of elegance".
Boudin
, who was interested in "modern life", took this opportunity to paint high society on holiday. Hoping it would provide a commercial outlet, he produced beach scenes in oils, watercolours and pastels.
"
My little beach ladies are much appreciated: some say they will be a goldmine
," he wrote in 1863. But the wealthy clientele did not share his artist friends' view: they did not like being depicted so vaguely. For
Boudin
's beach scenes chiefly endeavour to convey the open-air atmosphere and dazzlingly bright light of the seaside: "
We are reproducing not so much the people as the element that envelops them
."
From 1868 onwards, once it was clear that they would not bring him success,
Boudin
gradually abandoned beach scenes featuring crinolines. However, he continued to explore the theme, depicting fishermen and fishwives on beaches in Normandy, Berck and Étaples. Each year, he produced a few small paintings of beach scenes. These works, mostly produced on visits to friends, were intended to immortalize a private moment.
It was as a painter of seascapes that
Boudin
eventually won recognition. It was only after his death that his name came to be closely associated with beach scenes.