Vuillard, Children Reading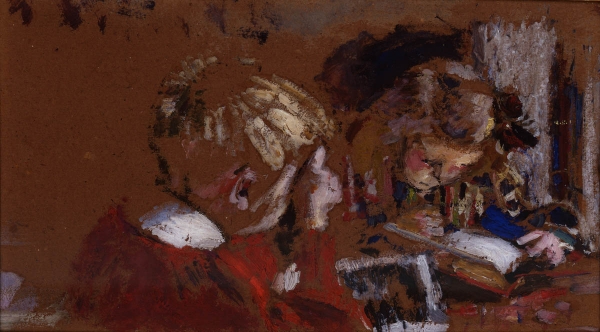 Édouard VUILLARD (1868-1940)
Children Reading
1906
oil on board
14.5 x 26 cm
© MuMa Le Havre / Florian Kleinefenn

Édouard Vuillard (1868–1940), called "the taciturn" by his friends, was an early member of the Nabis, along with Maurice Denis, Bonnard, Sérusier and Vallotton. In accordance with the teachings of Gauguin, the Nabis aimed to reform painting by giving flat patches of bold colours and sinuous lines a primordial role in the construction of pictorial space.
Influenced by Degas and Japanese art, Vuillard turned to decorative painting, as well as to an intimiste art that draws on everyday life.

The birth of little Annette Roussel in 1898 marked a turning point in the life and art of Vuillard. Annette and her brother Jacques, the artist's niece and nephew, were the children of his sister Marie and the Nabi artist Ker-Xavier Roussel. They became the painter's favourite subjects. He also photographed them with a Kodak camera acquired in 1897.

Children Reading is from a larger board study made in 1909, initially a set of nine sketches that included the portrait of the artist's mother. This particular sketch was subsequently cut and sold separately to Olivier Senn, a collector from Le Havre, in 1931.

The artist's tender and attentive, almost fatherly, gaze recreates the intimacy of a family scene. Annette is illuminated by the light from the window on the right, while Jacques, seen from the back, his half-hidden face resting on his hand, is absorbed in his reading. Annette emerges in full light, bathed in purple, green and violet blue colours. The surface of the board reappears, the air circulates and the chiaroscuro, the vibrant touches of light on the hands, the face, the pages of the book and Jacques' white collar, all convey a sentiment of permanence that is gladly attached to the memory.