LAPRADE, Saint-Trojan, Terrace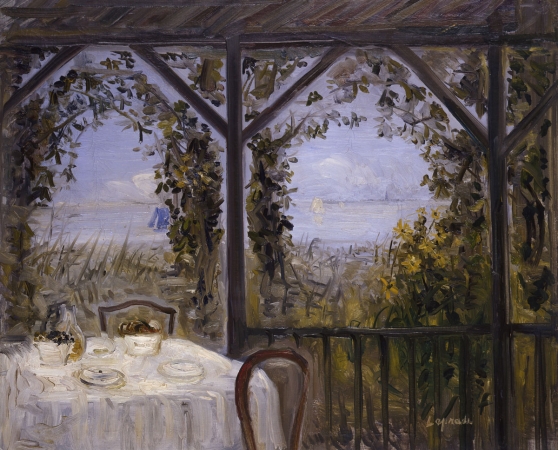 Pierre LAPRADE (1875-1931)
Saint-Trojan, Terrace
oil on canvas
60 x 73 cm
© MuMa Le Havre / Florian Kleinefenn

Pierre Laprade, on a constant quest to find new decors, travelled in Italy, Holland and France. Saint-Trojan, Terrace, takes us to the clear, sandy shores of Ile d'Oléron. No trace here of the masks and bergamasks, puppets and fantasy gardens that he brought back from Italy, the land of joyfully frolicking Cupids. Rather, a peaceful summer's day on a terrace sheltered from the beating sun, the silent wait before a holiday meal. The wood awning of the terrace and railing show the intimacy of the familiar space. The foliage wraps around the arbour, framing two light-filled openings over the stretch of sea. The pale blue of the sky is reflected in the water, marked only by the ultramarine and the bright white of the sailboats.

Like his friend Flandrin, who returned to draw inspiration from the mountains of his native Dauphiné, Laprade gave much attention to the careful construction of his paintings with regard to nature. The countryside is enjoyed in the shade of pergola, from a balcony or framed by a fanciful and decorative vine arbour that spreads open like a stage curtain. This way of organizing motifs enables him to vary the effects between the luminous and airy infinity of the background and the darker foreground.

Laprade's poetry comes through in this desire to give tangibility to the air that circulates around all things, the atmosphere of a place, its ambiance. He loves soft and fair harmonies. His taste for synthesis and elision brings him closer to the aesthetics of his contemporaries, Marquet and Matisse. With a touch that suggests more than it describes, his painterly skills are given full expression. The brush sketches plates, dishes and carafes on the table in a sfumato of creamy whites tinged with green greys. That is the only point Laprade shares with the Fauves, for his love of nature prevented him from distancing himself completely. The soft reverie that emanates from his landscapes, his attraction to plant decoration, in moderation, associates Laprade's painting, beyond Impressionism, with the 18th-century French landscape tradition and the softer resonances of a Corot painting.