COTTET, Sudanese Village (Aswan 1895)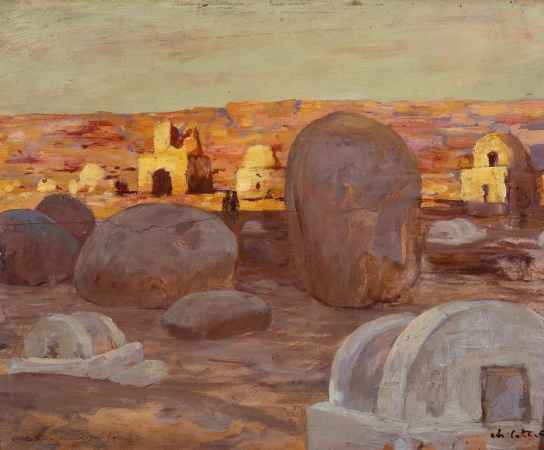 Charles COTTET (1863-1925)
Sudanese Village (Aswan 1895)
1895
oil on paper pasted on panel
32.3 x 41.5 cm
© MuMa Le Havre / Florian Kleinefenn

The lure of the Orient was made tangible in
Charles Cottet
's painting when he obtained a travel bursary in 1894; he left on November 5 and returned on March 4 of the following year. Passing briefly though Venice, he then headed to Egypt, where the discovery of a radiant light incited him to reconsider the harmonies of his palette. The
Sudanese Village (Aswan 1895)
shows the adaptability of an artist who had until then opted for dark and muted colours to convey the atmosphere of Brittany.
With simplicity of composition, the artwork is comprised of three overlaid bands that highlight the harsh contrasts of the landscape. The foreground, plunged into the shadows and punctuated by tombs and boulders, is painted in tones of ochre, earth, bluish grey and greenish grey. To vary the effects,
Cottet
applies Impressionist teachings by reserving areas of his canvas. In the middle section, the light is carried by vivid, skilfully orchestrated colours. Beneath a sky in soft harmonies of pale green and pink,
Charles Cottet
recreates the vibratory quality of the Egyptian light using strident shades of bright yellow, orange, crimson, fuchsia, punctuated with broken purples. Broad strokes are juxtaposed in the Impressionist style to fashion the mountain or worked with a trowel to render the luminous volumes of the dwellings.
The sun-beaten, white-hot landscape literally explodes in the centre of the painting, timeless and majestic. At the centre, two tiny, hastily depicted figures contribute to the immensity of the scene. There is also a touch of Delacroix's "living Antiquity", something
Cottet
also portrayed in late 1894, in
Fellah Women
(1894, Strasbourg, Musée d'Art Moderne et Contemporain) painted at the same location amongst the tombs, but viewed from a different angle.
Cottet
, however, goes beyond the romantic spirit of Delacroix to unravel the mystery of the village, to unveil its beauty and its immediate truth.