VALLOTTON, Still Life with Apples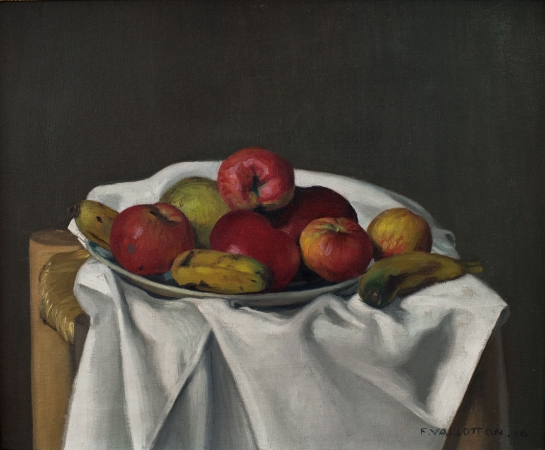 Félix VALLOTTON (1865-1925)
Still Life with Apples
1910
oil on canvas
38 x 46 cm
© MuMa Le Havre / David Fogel

Félix Vallotton began taking interest in the still-life genre in 1910. On the face of it, his Still Life with Apples is a profoundly simple theme. The objects depicted adhere to the artist's habit of using only the simplest things around him to compose this type of work.

Contrary to the conventions governing the genre, Vallotton did not arrange the different components on a table, but on a plain straw-plait stool covered with a white sheet.
The dark matte paint is applied in a thin layer, save the light impasto on the fruit. Apples and bananas are depicted with great attention to realistic detail, right down to the discolouration of their peel.

The fruit is arranged compactly in the dish with no air circulating through the coloured ensemble. Two of the red apples are so intertwined they form a mass of colour far removed from the realism that characterizes most of the fruit gathered in the dish. The green apple is given the same process of simplification, reduced to a rather indistinct formation of a sphere.

These three pieces of fruit, rather evenly coloured, present no details that could qualify them as apples. By an association of ideas with the fruit around them that show us their cores and stems, and by the careful depiction of the bananas, these three coloured spheres can be identified as fruit. Uncertainty remains, however, with regard to aesthetic perception. In such a way, Vallotton, like his elder Cézanne, manages to demystify the fruit and rid them of any symbolic content, thus asserting only their visual qualities.