van Dongen, The Parisienne of Montmartre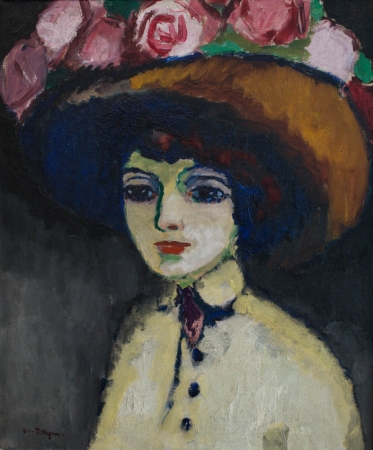 Kees van DONGEN (1877-1968)
The Parisienne of Montmartre
ca. 1907-1908
oil on canvas
64.5 x 53.2 cm
© MuMa Le Havre / David Fogel — © ADAGP, Paris, 2013

Dutch painter Kees van Dongen (1877–1968) moved to Paris in 1897. Between 1906 and 1907, he lived with his family at the Bateau-Lavoir apartment block. Although he had Picasso for a neighbour and, from 1907 to 1909, a contract with the Kahnweiler gallery which specialized in Cubist painting, van Dongen remained on the fringes of the movement's explorations. His bold experiments with colour created a sensation at the Salon d'Automne of 1905 and caught the eye of Félix Fénéon, who was placed in charge of the modern art section of the Bernheim-Jeune gallery in 1906. The artist gradually moved away from the strict avant-garde, drawn to Cézanne to pursue his research on colour.

Van Dongen painted the dancers, acrobats and young models he met at the circus and music halls. Around 1907–1912, women became one of his favourite subjects. The Parisienne of Montmartre stands out against a dark background. She is modestly dressed in a pale garment with a round collar. The vivid colours of the floral decoration on her hat—a studio accessory that can be found in other portraits from the same period—and her dark crown of hair form a frame around her face. The light contours of her cheeks contrast with the deep touches of colour on her eyes and brows. The pale nuances and green shadows of her face are inspired by Matisse's Fauve portraits.

This painting, which went down in art history for defining the archetypal figure of the modern woman, likely entered the collection of Charles-Auguste Marande around 1907–1908. The collector acquired other works by van Dongen, including Bouquet and Horsemen in the Bois de Boulogne. He was one of the art connoisseurs from Le Havre who believed the most in the artist, along with collectors Pieter van der Velde and Georges Dussueil. This figure with elegant features heralded the turn Kees van Dongen's work would take toward society portraiture after World War I.