MATISSE, Landscape or Street in the South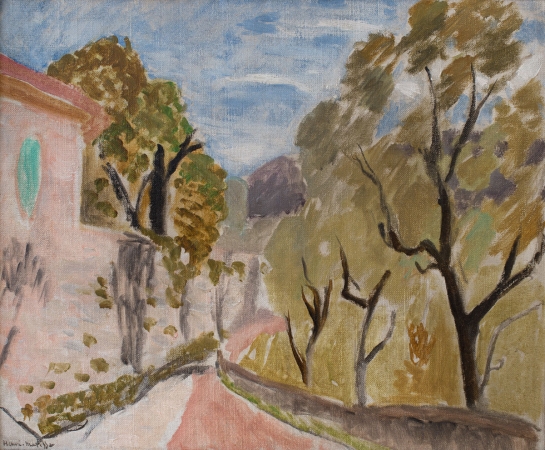 Henri MATISSE (1869-1954)
Landscape or Street in the South
1919
oil on canvas cardboard
38 x 46 cm
Droits Photo : © MuMa Le Havre / David Fogel — Droits Auteur : © Succession H. Matisse

On a trip to Corsica in 1898, Matisse discovered the light of the South: "I was in Corsica one year and it was by going to that marvellous land that I learned to know the Mediterranean. I was dazzled there: everything shines, all is colour and light." His renewed interest in landscape marked a departure from his Impressionist and Fauve paintings.

Colour was no longer what structured the painting, but rather a soft and diffuse light that permeated everything. His brushwork became light and transparent, letting a number of areas of blank canvas show through. Black, for Matisse and Bonnard at the same moment, and Manet before them, was used to convey the intensity of light. Matisse adjusts and animates the surface of the painting by the rhythm of the black tree branches along the road.

The painter's immersion into the experience of nature is conveyed in his paintings, not by an analytic description of the tree motif, but rather a sense of harmony of plants and peace. "I used colours as a means of expressing my emotion and not as a transcription of nature. I use the simplest colours. I don't transform them myself, it is the relationships that take care of that. It is only a matter of enhancing the differences, of revealing them. Nothing prevents composing with a few colours, as in music that is built on only seven notes."

Matisse created recognizable signs for those viewing his paintings. The freedom he adopted toward the motif came after a long period of construction of the artwork from which Matisse had decided to break: "I first worked as an Impressionist, directly from nature; I later sought a concentration and a more intense expression both in line and colour, and then, of course, I had to sacrifice other values to a certain degree, corporeality and spatial depth, the richness of detail."