Derain, Bougival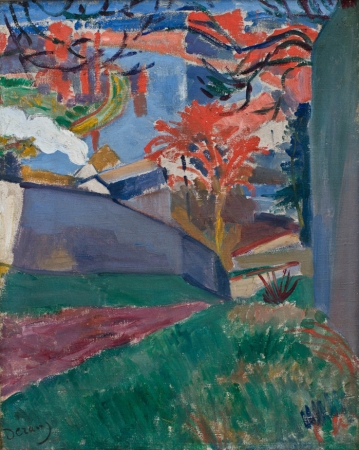 André DERAIN (1880-1954)
Bougival
ca. 1904
oil on canvas
41.5 x 33.5 cm
© MuMa Le Havre / David Fogel — © ADAGP, Paris, 2013

Self-taught,
André Derain
(1880–1954) was introduced to painting by a friend of Cézanne named Jacomin. A regular visitor to museums, he made acquaintance with Matisse. In 1895, he began working on the landscape of Chatou and the surrounding countryside. Vlaminck became a friend and ally in his fight to free himself from Impressionist formulae. The two artists strove in their painting for the "transposition" of the subject through colour. Upon his return from military service in 1904,
Derain
embarked on a new path, with the support of Vlaminck who experimented with him on the use of pure colours.
Breaking with the balance of the landscapes executed at Chatou,
Derain
painted this landscape on the banks of the Seine in the neighbouring village of
Bougival
. Here the light, carried by the strident colours, is what constructs the space of the painting. The horizon, pushed to the top, reinforces this impression and asserts the flatness of the painting's surface. While the foreground is not completely different from the reality of the motif, the voluble explosion of blues and reds in the upper section alone heralds the scandal of the "cage aux Fauves" at the Salon d'Automne of 1905.
That same year,
André
Derain
made his first appearance at the Salon des Indépendants, with eight paintings including
Bougival
and
The Old Tree
(Paris, Musée National d'Art Moderne). Vlaminck, who exhibited works alongside him, evoked in his memoires the story of how their art was acquired by a collector from Le Havre. The purchaser was Ernest Siegfried, father-in-law of Olivier Senn, who could not appreciate his son-in-law's tastes for the "Impressionists", a term used at the time for all avant-garde painters, and gave him the artwork as a joke. Olivier Senn divested himself of
The Old Tree
by
Derain
and the paintings by Vlaminck, but retained this decidedly Fauve work of art.