MATISSE, Still Life with Pitcher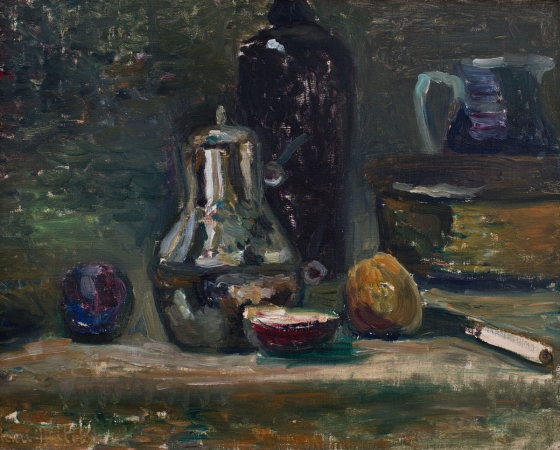 Henri MATISSE (1869-1954)
Still Life with Pitcher
ca. 1896
oil on canvas
33 x 41 cm
Droits Photo : © MuMa Le Havre / David Fogel — Droits Auteur : © Succession H. Matisse

Matisse turned to painting relatively late in life, joining the École des Beaux-Arts in Paris in 1893, where he studied under Gustave Moreau. On the advice of his professor, Matisse spent long days copying the work of the older masters at the Louvre. In Still Life with Pitcher, Matisse refers to the work of Chardin, opting for a clear and static juxtaposition of objects. The rigorous straight lines of the table are counterbalanced by the curve of the objects and the round shape of the fruit.

A pewter bowl, black glass bottle, silver jar, fruit and knife are arranged spaciously on the table. Matisse takes pleasure in rendering the diversity of materials and their respective qualities. The light from the left illuminates the fruit and the pitchers, casting reflections in a harmony of colours that ties the objects together. The purplish blue of the plum is echoed in the neck of the pitcher, the dark red of the apple is mirrored on the base of the silver jar, while the orange is reflected in the pewter bowl. The knife laid at an angle, the alternating areas of shadow and light, lend the composition its full depth.

Still Life with Pitcher distinctly resembles the work Matisse produced in 1896, the year he made his second trip to Brittany. "I began to work from nature. And soon I was seduced by the brilliance of pure colour. I returned from my trip with a passion for rainbow colours." Matisse gradually eliminated tonal values from his painting to achieve an independence of colour. With the vibrating brushstrokes that activate the surface of the painting, and the underlying dark green, Still Life With Pitcher represents a further step in the steady transition to colour. The traces of canvas showing through contribute to the overall brightening. The orangey hues and violet, still discreet, forecast the explosion of colour in the years to come.