RENOIR, Woman Seen from the Back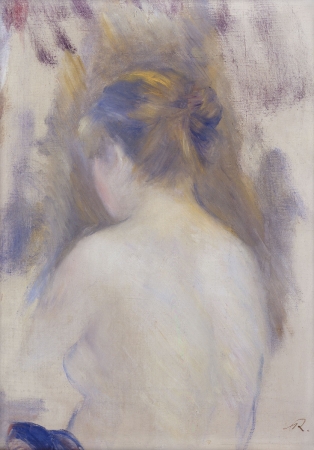 Pierre-Auguste RENOIR (1841-1919)
Woman Seen from the Back
ca. 1875-1879
oil on canvas
27.1 x 22.1 cm
© MuMa Le Havre / Florian Kleinefenn

"The simplest subjects are eternal. The naked woman rises either from the sea or from her bed; she is called Venus or Nini—there is no better way of portraying it." These were the words of
Renoir
, who shared with Degas a keen interest in female nudes. But while Degas showed himself to be biting and sometimes cruel in his vision of a woman's body,
Renoir
encircled it with a halo of grace and beauty that contributed to creating a general female type in his painting of figures.
Woman Seen from the Back
is part of a well-identified genre of production. According to painter Albert André,
Renoir
was wont to leaving oil sketches in the corners of his paintings: "He did not want to consider these little sketches as anything more and became enraged when, after having cut them out and remounted the canvas, people would bring them to him to sign and finish the edges so they could be transformed into paintings." Concluding that
Renoir
's best work was found in these small paintings.
In
Woman Seen from the Back
,
Renoir
engages in an attentive study of light on the skin and hair of his model. The very smooth application of paint next to the multi-coloured halos recalls the work he pursued between 1875 and 1879. The greenish and yellowish tones streaked with purplish blue evoke the criticism he received with regard to his
Torso, Sunlight Effect
(Paris, Musée d'Orsay): "Someone needs to kindly explain to Mr. Renoir that a woman's bust is not a mass of decomposing flesh full of green and violet spots, which indicate the state of complete putrefaction of a cadaver."
In the artwork from the Senn collection,
Renoir
makes use of his skills as a colourist. The use of drawing, practically inexistent, intervenes to outline the shape of a breast or strengthen the contour of a shoulder or the nape of the neck. The back of the young woman stands out against the hastily brushed background. It is worked with such delicate strokes one might think it was done in pastel.