Monet, London Parliament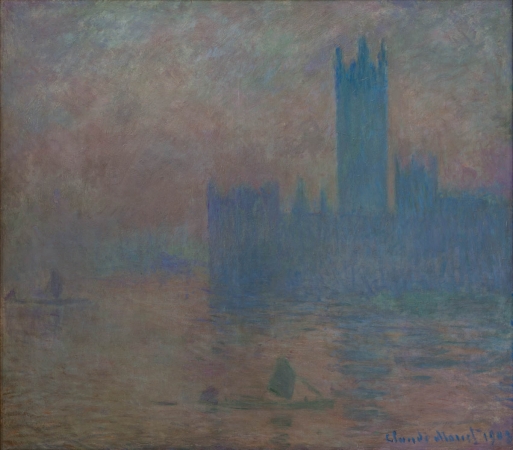 Claude MONET (1840-1926)
London Parliament
1903
oil on canvas
81 x 92 cm
© MuMa Le Havre / David Fogel

After a brief trip to London in 1870, Claude Monet (1840–1926) was invited back in 1887 by the painter Whistler. Captivated by the city, he decided to return the following years to paint some of "the effects of fog on the Thames". After four years spent observing the motif, Monet began a major series on the capital city in his Giverny studio. Through constant and simultaneous work on all of the paintings, he succeeded in completing thirty-seven canvases in 1904 with the aim of exhibiting them.

London Parliament belongs to the series comprising around one hundred works in which Monet focuses on three motifs: the bridges of Charing Cross and Waterloo, as well as the House of Parliament. But the true subject of these paintings is the changing weather and light that bathe the monuments of the London skyline. This painting with subtle violet and purplish blue washes evokes Monet's passionate investigations into recreating the distinctive effects of fog in the English capital. Tinged with the memory of Turner's work, which Monet discovered in 1870–1871, it can be especially compared to Whistler's Nocturnes.

In May–June 1904, the Durand-Ruel gallery in Paris held a vast exhibition exclusively dedicated to these "Views of the Thames in London". Hailed as a major event by critics, the exhibition was also very well received by art connoisseurs. A few days after the opening, on May 19, a collector from Le Havre by the name of Pieter van der Velde purchased a painting from the large-scale series "Westminster Palace" for the considerable sum of 18,000 francs.

Not only did he enrich his own collection, Van der Velde, with the support of his friends Dusseuil and Marande, two members of the acquisitions committee for the Le Havre museum, was likely a key participant in the municipality's negotiations with Monet in 1910. The name of the Impressionist master had been mentioned by the committee as early as 1901, but it was ten years before three of the artist's paintings graced the municipal collections: Cliffs at Varengeville, Waterlilies and London Parliament. Purchased directly from the artist for the symbolic amount of 3,000 francs, these paintings were added to the small collection of Impressionist works—a painting by Maufra and two Views of the Port of Le Havre by Pissarro—that entered the museum's collections in 1903.