MONET, The Seine at Vétheuil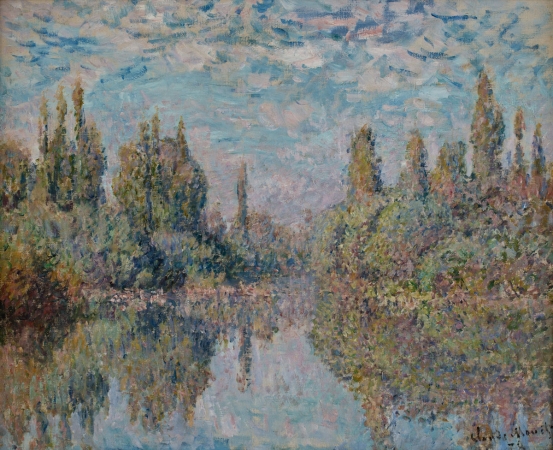 Claude MONET (1840-1926)
The Seine at Vétheuil
1878
oil on canvas
50. 5 x 61.5 cm
© MuMa Le Havre / David Fogel

During the summer of 1878, financial difficulties forced Monet to leave Paris and live in Vétheuil. He moved into a little house on the road to Mantes with his family, Camille and their two sons, as well as the Hoschedé family.
"I have planted my tent on the banks of the Seine at Vétheuil in a ravishing spot."
Monet set about painting with great fervour to propose paintings to his most loyal supporters, Doctor Georges de Bellio and Caillebotte, who sought out clients for him and brought them to the studio that Caillebotte rented for the artist on Rue de Vintimille.

From Baudelaire's gentleman stroller in Paris to the painter of modernity in Argenteuil, Monet found himself looking out over the rural landscapes, a solitary spectator renewing with the paintings of Barbizon. The works painted upon his arrival are steeped in a sadness undoubtedly related to the worry caused by Camille's ailing health. Although his dreams of work and happiness were gradually giving way to discouragement, he exhibited in 1879 at the 4th Impressionist Exhibition so he would not appear, in his words, like a deserter.

At Vétheuil, the Seine, travelled by barges, was a major river trade route. The series of islands created a curtain that shielded the town from the boat traffic. In September 1878, Monet concentrated on this stretch of the Seine, portrayed from the riverbank or his studio-boat.
This small branch of the Seine at Vétheuil is painted downstream from the village, between the Moisson islands.

The golden morning light transfigures the early autumn. The surface of the painting has a truly vibratory effect, brought to life with brushwork he had already experimented with in Argenteuil. Fragmented in the foliage along the horizon, the strokes grow a touch longer in the symmetrical reflection. In a glaze only slightly more transparent, the reflection in the water inverts the tranquil activity of a late summer sky. Only the quick, broad strokes of the clouds, still high, are massed together, like a foreshadowing of the dark days to come.