LÉPINE, The Seine with View of the Pantheon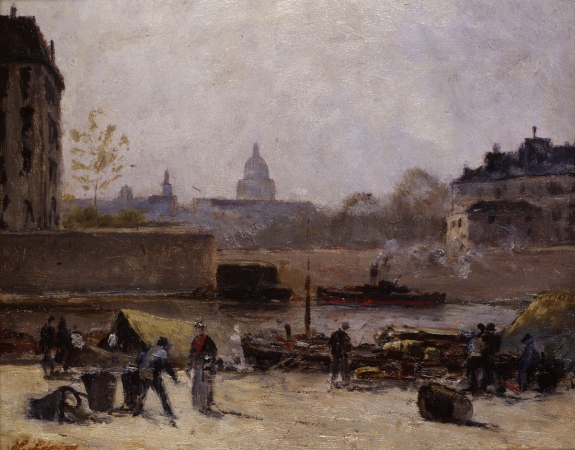 Stanislas LÉPINE (1835-1892)
The Seine with View of the Pantheon
ca. 1884-1888
oil on wood
21.5 x 26.8 cm
© MuMa Le Havre / Florian Kleinefenn

Considered one of the creators of the Parisian landscape,
Stanislas Lépine
developed an intimate body of work with a sensitive style that placed him in line with the Barbizon painters and at the cusp of Impressionism.
The Seine with View of the Pantheon
is no doubt one of the preparatory studies for
The Apple Market
that
Lépine
exhibited at the Salon des Artistes Français of 1889. The fact that it is painted on wood panel pleads in favour of this assumption, for
Lépine
reserved this medium for his sketches.
Paradoxically, the painting from the Senn collection, and not the final piece, is the one that demonstrates the painter's virtuosity. The vague, misty outlines of the buildings and the Pantheon, the cottony foliage of the trees that melds with the plume of smoke spewing from the steamer, the strident reds that embellish the whole, are some of the artist's best work. Here, as in most of his paintings, human activity seems accessory, daily movement like that of the ship travelling up the Seine, but hardly more important than the water, the sky or the stones.
The scene is firmly set, confined by the buildings on either side. The horizontal structure is composed of three bands that each occupy a third of the space, but a mast soaring up, just slightly off-centre, serves to counterbalance the systematic rigour of the horizontals. For this view imbued with great sensitivity,
Stanlislas Lépine
received the well-earned praise of Georges Lecomte, who saw in him someone fit to "shatter the academic landscape, take an exact reading of the light, the atmosphere" and affirmed: "for that very reason, his place must be claimed among the instigators of the movement that carried the modern school to la peinture claire (light painting)."