Courbet, The Wave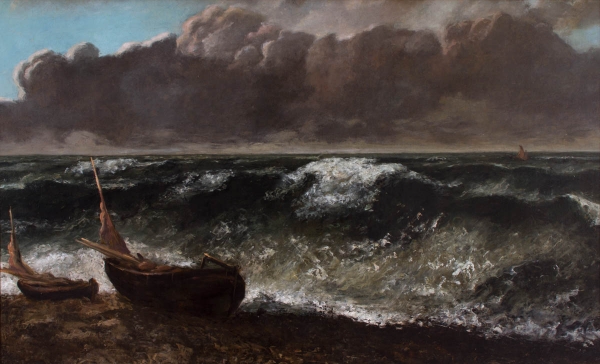 Gustave COURBET (1819-1877)
The Wave
1869
oil on canvas
71.5 x 116.8 cm
© MuMa Le Havre / Charles Maslard

Le Havre is where
Gustave Courbet
(1819–1877) discovered the sea, on a trip to the Normandy coast in 1841 with his childhood friend Urbain Cuenot. He returned to the shores of the Channel in 1852 and, from 1865 to 1869, sojourned regularly at Le Havre, Honfleur, Trouville, Deauville and Étretat. There is where he painted what he referred to as "seascapes", meaning "stormy seas", "waterspouts" and "waves". Radically departing from traditional "marine" painting, which often still catered to the picturesque (e.g. shipwreck and fishing scenes) or depictions of naval history,
Courbet
found inspiration in a direct approach to the sea. Fascinated by the raging ocean, he sought to capture the power of the rapid, elusive and continuous rolling motion of its swells. Tirelessly painting the same motifs, he created the concept of "series" before Monet and the Impressionists.
Courbet
spent the summer of 1869 in Étretat, a small fishing village nestled in a valley flanked by striking chalk cliffs. While there, after having painted "nine seascapes that pleased [him]", he decided to "begin [...] a 1.6 m seascape for the exhibition [having] never displayed this genre." The artist hoped to present a painting from the series at the following year's Salon de Paris, but one of a size much larger than his earlier works. In the end, he exhibited two:
The Cliff at Étretat after the Storm
and
The Stormy Sea
(both at the Musée d'Orsay). Like companion pieces portraying changes in weather—one side nature's fury and the other side nature's calm—, the paintings provide two different views of the location. While the white cliff and the shingle beach take up a large part of the composition in
The Cliff at Étretat
, thus highlighting the rocky features of the scene, the raging sea beneath a chaotic sky is the focus of
The Stormy Sea
. Critics unanimously praised the two works.
Courbet
painted three other versions of
The Stormy Sea
. The first two, smaller in size, display the same composition as the painting now held at the Musée d'Orsay. The third painting, acquired by MuMa, is characterized by a tightly framed sky, which is reduced by half. This choice draws attention to the wild sea and the fantastic wave that appears frozen in movement. The artist offers a particularly intense vision of the tormented and disturbing sea. Applying thick paint with a kitchen knife,
Courbet
succeeded in conveying the savage power of natural forces at work. "His tide comes from the depth of ages," Paul Cézanne would later comment.