Marquet, Woman, Child and Man from Behind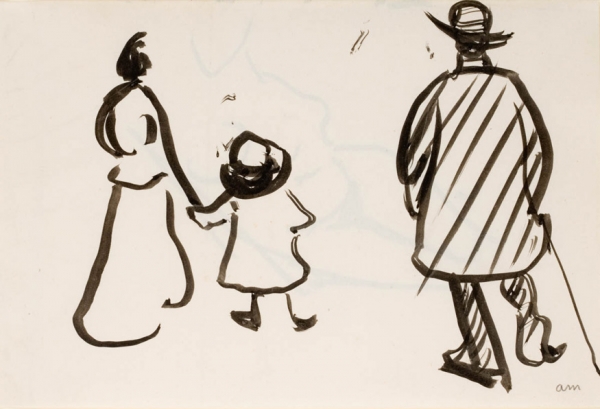 Albert MARQUET (1875-1947)
Woman, Child and Man from Behind
ca. 1904
black ink on wove paper
19.5 x 27.6 cm
© MuMa Le Havre / Charles Maslard

From the time he studied at the École des Arts Décoratifs, alongside Matisse and Camoin in particular, Albert Marquet (1875–1947) escaped to the streets of Paris and its living theatre. He studied at the École des Beaux-Arts under Gustave Moreau, who encouraged him to pursue his work outdoors. Seated at the terrace of a café or hidden under a carriage gate, the young artist drew passers-by and teams of horses, before sharing his first pictorial attempts with Matisse. His drawings revealed a genuine talent for capturing a silhouette or posture in a few quick brushstrokes of India ink.

Woman, Child and Man from Behind is from the set of street sketches made to illustrate the second edition of Charles-Louis Philippe's Bubu de Montparnasse. The artist spent the summer of 1904 working tirelessly on the project, only to have his drawings rejected by the editor in the end. A short time later, Marquet announced to his friend Matisse, "This time, Bubu is completely dead. I received a letter from Philippe telling me that the illustrator Grandjouan had been given the commission."

Highly disappointed, for he was very attached to these India ink drawings, the artist decided to present them at the Salon d'Automne of 1904, along with some of his recent works featuring wide and bird's eye views of his new neighbourhood, Porte de Saint-Cloud. These small, quickly drawn figures would reappear in his landscape paintings, particularly those from the quays of the Seine in 1905–1906.