Robert, The Fire of Rome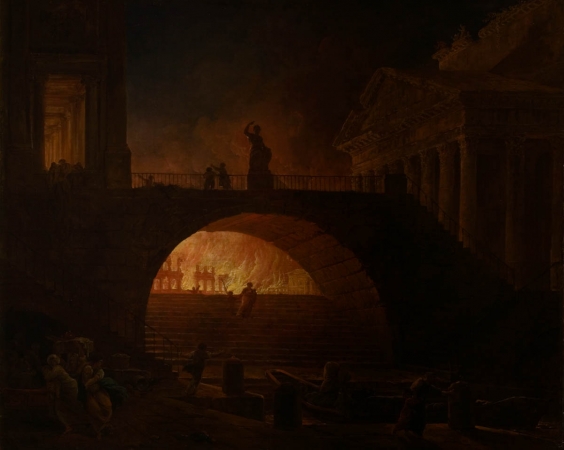 Hubert ROBERT (1733-1808)
The Fire of Rome
vers 1771
oil on canvas
75.5 x 93 cm
© MuMa Le Havre / Florian Kleinefenn

When Hubert Robert (1733–1808) was presented at the Salon de Paris in 1767, he was greeted with enthusiasm by the public and highly praised by Diderot. Not surprising, since the work was both a consolidation of the painter's aesthetic choices and a response to the period's propensity for the "sublime".

The fate of Hubert Robert was decided in Rome, where he lived from 1754 to 1765. His encounter with Panini and especially Piranesi changed the course of his career, making him not only a landscape artist, but also a painter of architecture, known as "Robert des ruines" (Robert of the ruins).

For Robert, choosing the historical theme of the fire of Rome in 64 AD was an opportunity to accommodate his taste for the representation of architecture while bowing to the current taste for the sublime, a source of new emotions.

Structured round a backlit effect that unifies the composition, The Fire of Rome portrays more than a historical event. It depicts the confrontation between two forces beyond human scale, as shown by the difference in scale, the power of history and the power of the natural element, which glorifies Rome even as it destroys the city. In this painting, Hubert Robert draws on the vocabulary of temple facades and arches so dear to him, making it an immense frame of human turmoil in the face of the historical event. The choice to portray only female figures fleeing from the fire adds dramatic power to the scene and stirs the emotions of viewers. Placing the ancient statue in the centre of the painting above the woman leading her child down the stairs by the hand symbolically translates the coexistence of two orders, the ancient world and the modern world—the divine world and the earthly world.

Remarkable by its detailed study of the propagation of light, perceived in the many colourful bursts that highlight the stonework and the sculpted decor of the monuments, this work demonstrates great sensitivity to colour, a sign of the major changes to come in 19th-century painting.